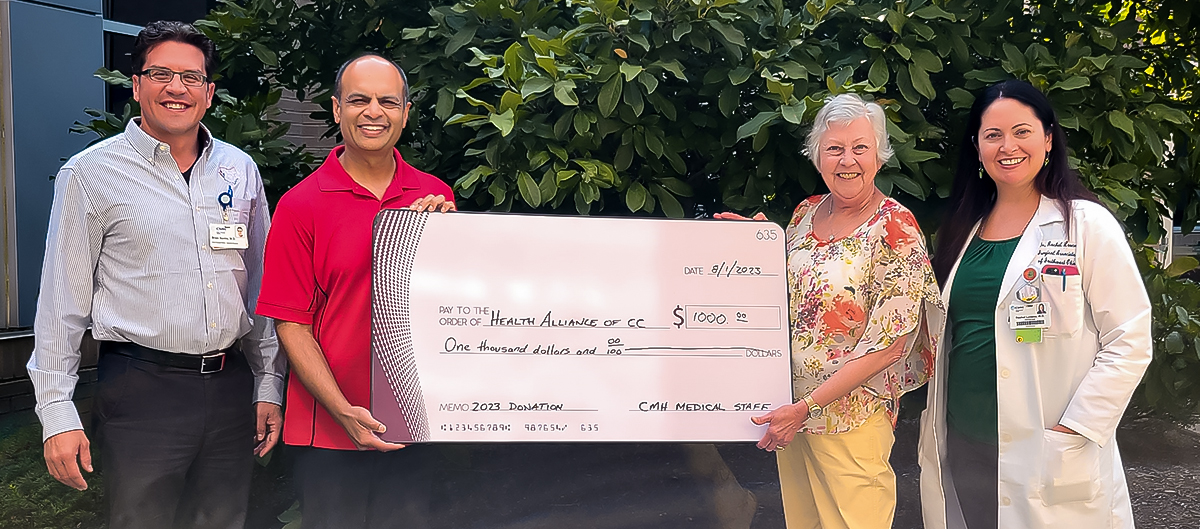 The Clinton Memorial Hospital Medical Staff presents check to the Health Alliance of Clinton County. Pictured L - R: Drs. Santin and Patel; Kay Fisher, President of HACC; and Dr. Lovano.
OUR HISTORY
When Clinton Memorial Hospital opened for business in 1951, a group of dedicated women met to discuss the formation of the Clinton Memorial Hospital Guild that was to be made up of smaller groups called Twigs. The Clinton County Medical Auxiliary members formed Twig 1. In just three years, the Guild would grow to 441 members with 16 Twigs. These ladies saw the opportunity for this organization to become an important partner to CMH, providing volunteer services, raising money for the hospital's many needs, and promoting friendliness and understanding in the community.
Throughout the years, the Guild/Twigs worked to remain a strong, supportive and important organization for CMH. The name of the organization has changed several times, being more recently known as The CMH Foundation Auxiliary. Its mission and dedication to CMH has always remained constant. When the Clinton Memorial Hospital became a for profit business in 2010, it was no longer legally possible for the Auxiliary to remain a part of CMH. With its rich history of providing financial assistance for health care, the Auxiliary re-established itself as an independent organization. Its projects and efforts have steadily grown and evolved into the present day non-profit organization we proudly call The Health Alliance of Clinton County. The Health Alliance is a 501(C)(3) non-profit organization under the umbrella of the Clinton County Foundation.